The Scandinavian interior design is distinguished by functionality, minimalism, and simplicity. Even if this type of design has been around since the 1950s, it strongly remains as a popular trend in interior design today. Scandinavian design is a design movement that is identified by a focus on functionalism and minimalism. It also involves the utilization of natural materials, including leather, wood, and hemp. Moreover, Scandinavian interior design is usually influenced by a connection to nature, which blends natural shapes, abstraction, and the use of natural elements. 
This style is very renowned since it speaks to both our orderly desire to live in inviting and comfortable settings. If you want to get the look that Nordic countries are so well-known for yet you don't know precisely how to do it, here are top tips we'll share with you on how to come up with a lovely Scandinavian interior design. 
Take Advantage of Natural Light 
Nearly all Scandinavian houses love using daylight. The way they use lighting is very crucial in Scandinavian interior design. Lighting is viewed as a life source and when it comes to Scandinavian decor, it should have various forms of lighting that offer enough illumination in the entire space. We recommend using modern lighting with an industrial design like wall sconces and pendant lamps. Candle lights and candelabras can create a Scandinavian living room to feel warm, cosy and romantic. 
Accessorize With Warm Textiles 
Almost all countries in the Scandinavian region have climates with exceedingly cold temperatures. Therefore, the use of warm textiles is usual for Scandinavian home decor. These textiles usually come in the form of the throws and carpets that are fabricated from sheepskin, wool, or mohair. Designing your home with warm textiles is a nice way to have a cosy and warm Scandinavian living room, particularly during winter. 
Merge Wood and Metal Finishes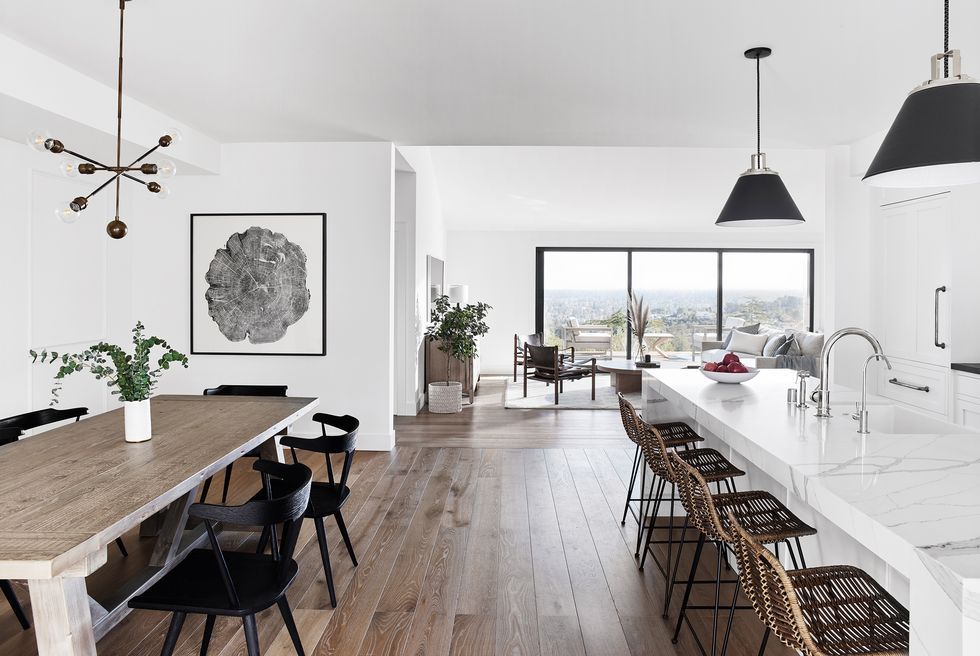 Scandinavian homes normally make use of wooden elements not only in the flooring but also in the furniture and fixtures. Therefore, you can see wooden coffee tables and chairs for the furniture of a Scandinavian house. However, the current trend in Scandinavian home decor is the combination of using metallic finishes and wooden elements. For example, copper sconces and brass pendants are positioned in a wooden ceiling to add shine and sparkle to the entire space. 
Pay More Attention to Neutral Colours 
The Scandinavian decor uses a specific colour palette that includes the hues of greys, browns, whites, browns, and blacks. If you are decorating a Scandinavian living room, make sure that you focus on using neutral colours in order to create a clean and soothing effect to your Scandinavian home design. The walls are usually painted in white in order for the furniture and decorative pieces to stand out. 
Opt for Light Coloured Flooring 
Wall to wall carpet is not the way to go for Scandinavian design. Normally, the flooring is made from light hardwood materials, either in its natural light colour or painted in white. It's a great idea to install laminated light flooring if you really want a Scandinavian theme. The flooring can make any Scandinavian house to look vibrant and larger while giving out a more inviting and welcoming atmosphere. Since bathroom floors can be freezing during the cold winter season, you may install them with heated tiles to provide more warmth in the underfoot. 
Give More Contrast 
High contrasts are considered to be the trademark of Scandinavian interior design. If you have an all-white dining room, you can place sharp black sculptural furniture to create an impactful, dramatic statement. Modern furniture is also a beautiful contrast with ornate architectural details that are common in historic buildings in northern Europe. 
Consider Form and Functionality 
Clean lines should be extremely evident when it comes to the use of furniture in Scandinavian design. Tables, sofas, chairs, and other Scandinavian decors should have a modern appearance with smooth and rounded edges. In addition, Scandinavian design is also determined by its innovative and smart use of space. You can see multi-levelled wall shelving in a Scandinavian living room. These storage spaces are contemporary and space-savvy and add visual regard to space. If you are really serious to nail a Scandinavian interior design for your home, you can ask from a new home builder to be able to create a stunning space.